Acerca de ...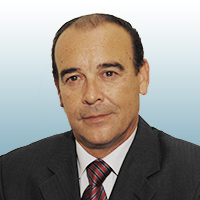 Profesor Titular de Economía Financiera y Contabilidad del Departamento de Finanzas y Contabilidad de la Universidad de Málaga. Director del Master Universitario en Dirección Financiera y del European Business Management de la Universidad de Málaga. Autor de libros y artículos científicos sobre Contabilidad, Finanzas, Turismo y Reputación Corporativa.
Principales publicaciones
Cornell Hospitality Quarterly:"An Analysis of Spanish Hotel Efficiency." Pag.. 56 - 3, pp. 248 - 257. New York 2015. USA.
Neural Computing & Applications: "Integrating corporate governance and financial variables for the identification of qualified audit opinions with neural networks". 27, pp. 1427 - 1444. New York 2016. USA.
PLoS ONE 11(11): "A global model for bankruptcy prediction". e0166693., San Francisco 2016. USA.
Expert Systems With Applications :"Corporate reputation and market value: Evidence with generalized regression neural" networks.. 46, pp. 69 - 76. Oxford 2015. UK.
International Entrepreneurial and Management Journal:"Feeling the risks: Effects of the development of emotional competences with outdoor training on the entrepreneurial intent of university students". 10, pp. 861 - 884. Ámsterdam 2014. Holland.
International Journal of Computational Intelligence Systems:"A System of Insolvency Prediction for industrial companies using a financial alternative model with neural networks". 6 - 1, pp. 29 - 37. Paris 2013.. France.
Chinese Business Review. "Financial Dependence and Economic Growth in Spain. 11 - 10, pp. 900 - 910.Washinton 2.012. USA.
Tourism & Management Studies: "Applying a probabilistic neural network to hotel bankruptcy prediction". 1 - 12, pp. 40 - 52. Faro 2016 . Portugal.
Participación en proyectos de I+D+i
SIAD de las empresas para su sostenibilidad: Una plataforma de valor para la gestión de la reputación corporativa para las multinacionales cotizadas y empresas públicas. Plan Nacional de I+D. Ministerios de Ciencia y Tecnología. Madrid 2013.
Sistema Inteligente de ayuda a las decisiones. Plan Nacional de I+D. Ministerios de Ciencia y Tecnología. Madrid 2011.
Análisis económico-financiero de la empresa andaluza en el marco de Unión Europea. Plan Andaluz de Investigación. Junta de Andalucía. Sevilla 2016.
Análisis técnico y económico del conjunto de entidades aseguradoras de la Unión Europea. Fundación MAPFRE Estudios. Madrid 1999.
Estudio teórico-empírico de la rentabilidad de la empresa española. Análisis comparativo por la dimensión y la propiedad del capital. Instituto de Estudios Económicos. Madrid 1992.